Fabian Duvigneau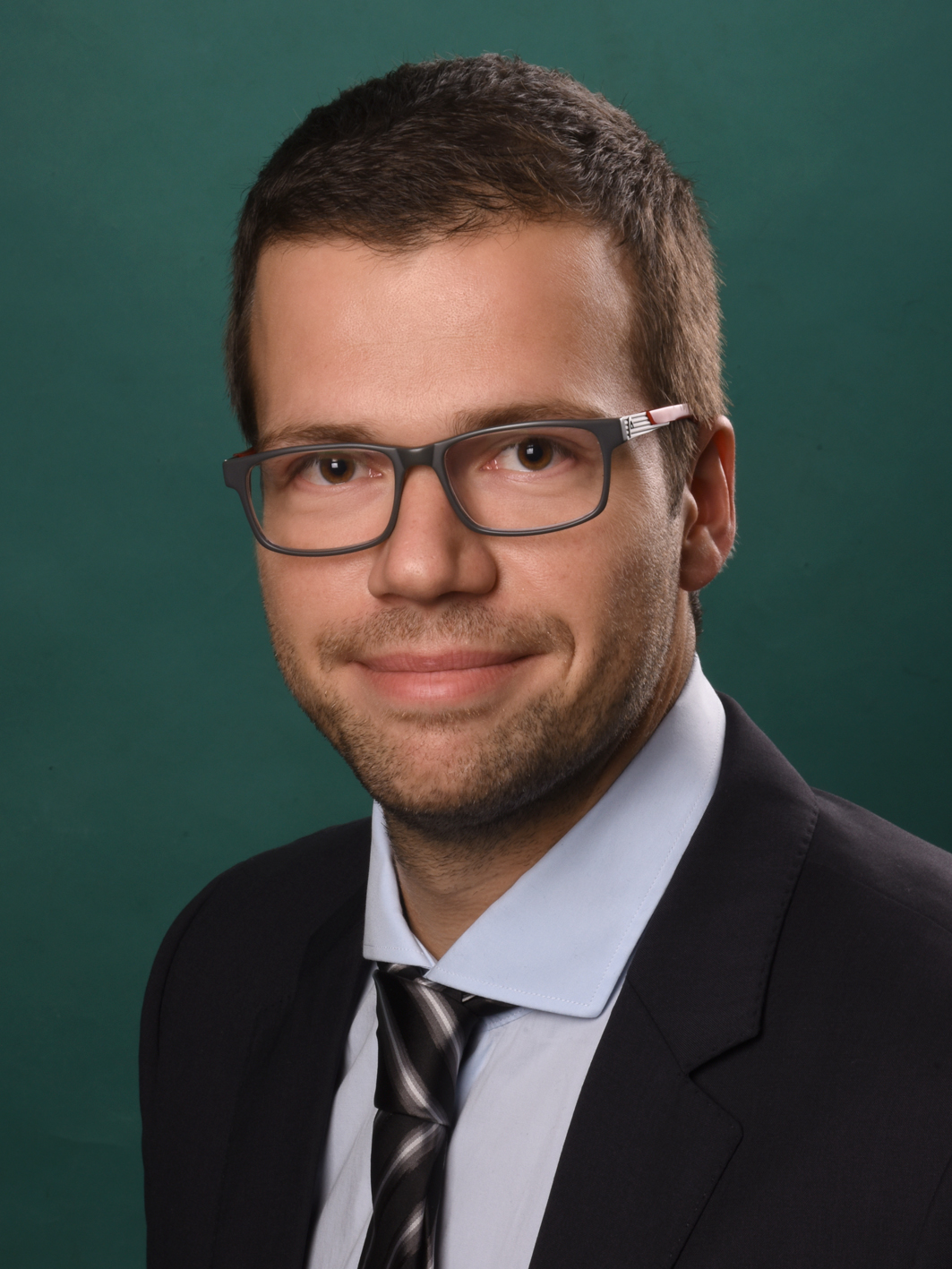 Dr.-Ing. Fabian Duvigneau
Faculty of Mechanical Engineering
Institute of Mechanics (IFME)
Postdoctoral Fellow

Universitätsplatz 2, D-39106, Magdeburg, G10-013
Topics and competences:
Experimental and numerical modal, vibration and acoustic analysis of any component and machine

Simulative assessment of the efficacy of active and passive acoustic measures

Holistic simulation approaches in order to take into account the excitation sources via, for example, elastic multi-body simulations or electrodynamic calculations

Consideration of human perception through psychoacoustic analyzes

(Multi-objective) optimization of any components and machines with regard to mass, strength and acoustic behavior (DoE, gradient, evolutionary methods & combinations)

Stress analysis, strength analysis, thermomechanical analysis

Crash simulations, stability

analysis, wave propagation
Equipment:
1D and 3D laser scanning Doppler vibrometers from Polytec (including additional measuring mirrors to reach inaccessible areas)

Optical derotator for using 1D laser scanning vibrometer in a rotating system

ARAMIS Adjustable from GOM for optical movement and deformation analysis of any structure with maximum flexibility of the test setup

Mobile acoustic camera for sound field analysis in the near and far field of any components and machines, even in an acoustically not ideal environment (including near field holography and beamforming)

Full free field room (4 x 4 x 4 m)

Test bench for determining frequency-dependent stiffness and damping parameters of any materials (e.g. typical acoustic insulation and damping materials)

Accelerometers, impulse hammers, force sensors, displacement sensors

Electrodynamic shakers, piezoelectric actuators and sensors

Hydropulse system, tensile test machine
IHK Forschungspreis 2017
Am 30. November 2017 wurde Dr. Fabian Duvigneau für seine Dissertation mit dem Titel "Ganzheitliche simulationsbasierte Bewertung der Akustik von automobilen Antrieben" mit dem Forschungspreis der Industrie- und Handelskammer (IHK) ausgezeichnet. Die Industrie- und Handelskammer Magdeburg hat im Rahmen der Tagung der Vollversammlung hervorragende wissenschaftliche Leistungen, die an der Universität "Otto-von-Guericke" Magdeburg sowie an den Hochschulen Magdeburg-Stendal und Harz erbracht worden sind, mit jeweils einem "Forschungspreis 2017" ausgezeichnet (siehe IHK Website).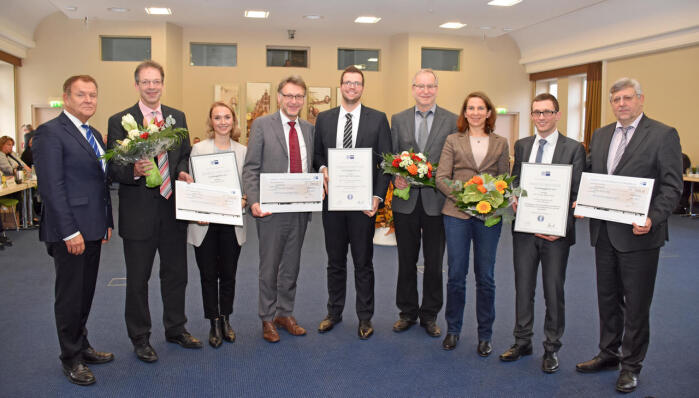 (v.l.n.r.): Wolfgang März, Hauptgeschäftsführer der IHK Magdeburg; Prof. Folker Roland, Rektor Hochschule Harz; Theresa Vitera, Preisträgerin Hochschule Harz; Prof. Jens Strackeljan, Rektor Otto-von-Guericke-Universität Magdeburg; Dr. Fabian Duvigneau, Preisträger Otto-von-Guericke-Universität; Prof. Ulrich Gabbert, Fakultät Maschinenbau Otto-von-Guericke-Universität; Prof. Anne Lequy, Rektorin der Hochschule Magdeburg-Stendal; Dr. Ronny Stolze, Preisträger Hochschule Magdeburg-Stendal, Klaus Olbricht, Präsident der IHK Magdeburg.
The up-to-date list of publications can be found at:
Public funded projects:
COMO II - COmpetence in MObility; Teilprojekt R3: Range-Extender Akustik
(01.01.2013-31.12.2015)
ELISA-Projekt: Modulare Leichtbaukomponenten für periphere E-Mobilitätslösungen
(01.01.2013-30.03.2015)

COMO III - COmpetence in MObility; Teilprojekt: Antriebsstrang & Radnabenmotoren
(01.01.2016-31.12.2018)
LeiRaMo - Ultra-Leichtbau-Radnabenmotor; Teilvorhaben: Konzeption, Konstruktion, Berechnung und Test des Ultra-Leichtbau-Radnabenmotor
(01.01.2016-30.06.2018)
KeM - Kompetenzzentrum eMobility; Teilprojekt AR3: Ganzheitliche dynamische Analyse von E-Maschinen
(01.01.2019-31.12.2021)
KeM - Kompetenzzentrum eMobility; Teilprojekt AR4: Akustik und Leichtbau von Elektromotoren
(01.01.2019-31.12.2021)
Kopplung fiktiver Gebietsmethoden mit der Randelementemethode für die Analyse akustischer Metamaterialien
(01.08.2019-31.07.2022)
Innovative Simulationsverfahren für die akustische Auslegung von Automobilen
(01.07.2019-31.06.2022)
DampedWEA - Innovative Konzepte zur Schwingungs- und Geräuschreduktion getriebeloser Windenergieanlagen
(01.11.2019-31.10.2022)
Projects with industrial partners:
Numerische Stabilitätsuntersuchungen einer Motorhaube
(Laufzeit: 01.01.2013-31.03.2013)

Untersuchung der thermoakustischen Wirksamkeit von Hohlräumen an Motorverkleidungen
(Laufzeit: 01.04.2015-30.06.2015)
Untersuchung einseitig imprägnierter Schaummaterialien
(Laufzeit: 01.06.2015-30.09.2015)
Untersuchung des Einflusses von Eigenspannungen auf Ergebnisse der Kopfaufprallsimulation
(Laufzeit: 01.09.2015-31.03.2016)
Optimierung der Befestigung von Akustik-Verkleidungen am Motor
(Laufzeit: 01.10.2015-29.02.2016)
Charakterisierung der Lambwellenausbreitung an Fügeverbindungen von Karosseriebauwerkstoffen
(Laufzeit: Juni Juli 2017)
Berechnung von Wasserkraftgeneratoren
(Laufzeit: Juni – August 2019)
Analysis of the most important design parameters of the piston liner contact w.r.t. the acoustic sensitivity
(Laufzeit: Juni – November 2019)
Cooperations:
Deutsches Zentrum für Luft- und Raumfahrt (DLR), Braunschweig
Volkswagen AG, Wolfsburg
Odenwald-Chemie GmbH, Heidelberg
BMW Group Forschung und Technik, München
Greiner Perfoam GmbH, Enns
IST Ingenieurgesellschaft für Strukturanalyse und Tribologie mbH, Aachen

Porsche Leipzig GmbH

TRIMET Automotive Holding GmbH
INVENT GmbH
Enercon GmbH
IGS Development GmbH
Krebs und Aulich GmbH
Toyota Motorsport GmbH
Fraunhofer IFAM Dresden
Deutsches Institut für Kautschuktechnologie e. V. (DIK), Hannover
Active memberships:
Magdeburger Verein für Technische Mechanik e.V. (MATEM)
Gesellschaft für Angewandte Mathematik und Mechanik e.V. (GAMM)
Deutsche Gesellschaft für Akustik e.V. (DEGA)
Member of the "Fachausschuss Fahrzeugakustik" der DEGA
Current courses at OvGU:
Lecture Product development
Lecture Methoden des Virtual Engineering in der Mechanik (MVEM)
Exercise Finite-Elemente-Methode (FEM)
Exercise Methoden des Virtual Engineering in der Mechanik (MVEM)
Exercise Grundkurs Technische Mechanik (TM)
ExerciseNichtlineare Finite-Elemente-Methode (NFEM)
ExerciseNumerische Methoden und FEM
External Lecture:
Fachhochschule Magdeburg-Stendal, Basic course Technical Mechanics, Summer semester 2016
Technische Hochschule Brandenburg, Master course, Leichtweight structures, Winter semester 2017/2018
Technische Hochschule Brandenburg, Master course, Nonlinear FEM, Wintersemester 2017/2018
Fachhochschule Magdeburg-Stendal, Basic course Technical Mechanics, Summer semester 2018
Technische Universität Braunschweig, Ringvorlesung "Faszination Akustik", Summer semester 2018
Fachhochschule Magdeburg-Stendal, Basic course Technical Mechanics, Summer semester 2019
Technische Universität Braunschweig, Ringvorlesung "Faszination Akustik", Summer semester 2019
Fachhochschule Magdeburg-Stendal, Basic course Technical Mechanics, Summer semester 2020